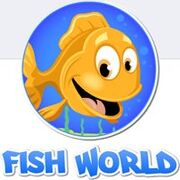 Fish World is a game created and developed by Big Viking Games for social networking site Facebook. In Fish World, players have their own virtual fish tanks where they can purchase, raise and sell fish and decorate tanks.  Players can send and receive gifts and help their friends unlock free content.  Players can trade items they own with other players and they can also buy and sell items in the Auction House.  
External Links
Edit
Ad blocker interference detected!
Wikia is a free-to-use site that makes money from advertising. We have a modified experience for viewers using ad blockers

Wikia is not accessible if you've made further modifications. Remove the custom ad blocker rule(s) and the page will load as expected.